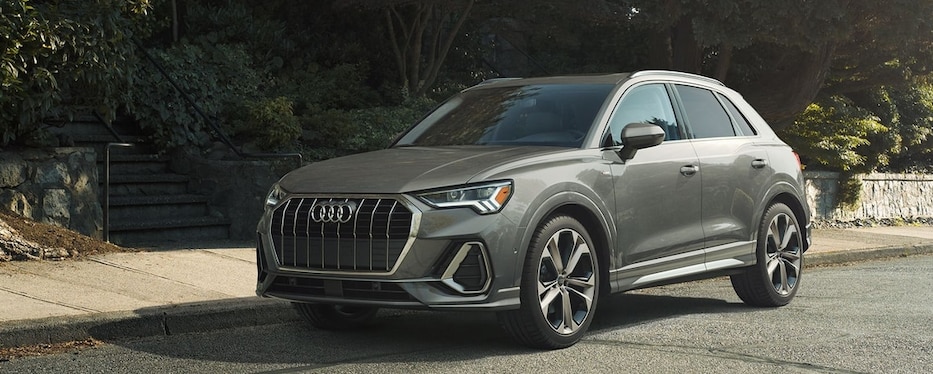 Eye-catching and powerful, the new Audi Q3 maintenance schedule ensures your vehicle delivers on its promise of high-end performance as long as you own it. Audi service for the Q3 is comprised of minor maintenance and standard maintenance intervals. These intervals offer a simple rotation that takes care of the majority of your Q3 maintenance needs. Get an in-depth look at these service intervals to better understand Audi service for your Q3 in the Hayward area!
---
Audi Service- Q3 Minor Maintenance Services
The first interval in the Audi Q3 maintenance schedule is minor maintenance, which is due at 10,000 miles or 1 year, whichever comes first. When you bring your Audi in for minor maintenance, it will receive the following recommended services:
A multi-point inspection performed
Replacement of oil and filter
Brake pads checked for thickness
Check tire repair kit and record the completeness and expiration date (if equipped)
Reset service reminder display 
After this first visit, the Audi minor maintenance will move to be performed every two years or 20,000 miles. 
Audi Service- Q3 Standard Maintenance Services
Standard maintenance, the next interval in the Audi Q3 maintenance schedule, is due at 20,000 miles or 2 years, whichever comes first. Service requirements during this visit include: 
Body/chassis- Paint checked for damage or corrosion
Brake system- Brake thickness and hose condition checked. The presence of bleeder caps confirmed. Inspected for damage or leaks
Connected box battery- Check with Vehicle Diagnostic Tester in Guided Functions for applicable models
Lubricate door hatch, hinges, and stay
High voltage cooling system- Check the coolant levels via ElsaPro
Engine cooling system- Check coolant level and freeze protection
Replace engine oil and filter
Engine, transmission, final drive, steering- Remove front noise insulation and then inspect for leaks and damage
Check exterior lighting functions
First aid kit- Inspect and enter an expiration date (if equipped)
Check headlight adjustment
Check horn function
Instrument cluster- Test warning lights and indicator lights
Check interior lights
Perform multi-point inspection
Complete a road test 
Safety belts- Check belt, belt tongue, and latch for function and condition
Service reminder indicator display is reset
Spare tire- Check tire pressure and condition (if equipped)
Panoramic sunroof and sunroof systems- Check function (if equipped)
Suspension and axle components (front and rear)- Check the dust seals on tie rod ends and ball joints. Check for excessive play
Tires- Inspect for tread wear and tire condition and check tire pressure. Adjust tire pressure if necessary and record the tread depth.
Tire repair kit- Check and record completeness and expiration date (if equipped)
Underbody- Check to ensure the wheel well liners, underbody paneling, and all lines are properly mounted. 
Warning triangle and first aid kit- Check if equipped
Windshield washer and headlight washing system- Check adjustment and function and add fluid if necessary
Wiper blades- Check blades for condition, replace if needed
Standard maintenance continues on at the 20,000 miles or 2-year intervals. 
Audi Q3 Maintenance Costs at Audi Fremont
Audi Q3 maintenance costs won't necessarily be the same for everyone. Depending on the age or mileage of your vehicle, you may find you need additional maintenance or repair. Costs between minor and standard maintenance intervals can also vary. Audi Fremont can provide an estimate for your Audi service for your Q3, so you know what your bill will look like after your next service appointment. In addition, we can share options like Audi Care (which includes pre-paid maintenance) and service financing!
Get Audi Q3 Service in the San Jose Area
If you're looking for an Audi service for your Q3, you won't have to travel far from Newark or Milipitas to find it. Audi Fremont's service center employs talented individuals who are knowledgeable about all Audi models, and we use OEM parts and progressive technology in all of our services. Schedule your appointment today, and enjoy service pick-up and delivery!