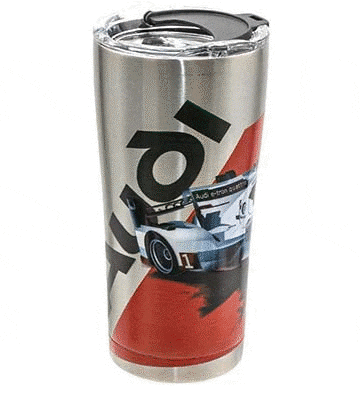 Where else to better look for a Valentine's Day gift for your Audi lover than Audi Fremont's online boutique? Our Audi Fremont team has curated a list of products they love to help their guests celebrate Valentine's Day this Friday:
1. Stainless Steel Audi Sport Tervis Tumbler: This tumbler does it all: it's leak resistant, has an easy-close lid and will keep drinks cold for 24 hours or hot for 8 hours.
2. Fabric Loop Keyfob: This keychain adds a pop of color to their Audi key.
3. Strand Tote Bag: Their Audi Q5 is the perfect place to store their groceries for the ride home and the Strand Tote Bag is the perfect bag to carry the groceries into the house.
4. Reise Mug: This mug is for all the Quattro lovers out there!
5. Pen2Paper Madison Pen Set: From holding their Audi key to holding the Pen2Paper Madison ballpoint pens, they will always be holding something Audi.
6. Audi Sport Hooded Sweatshirt: Who doesn't love a fleece-lined sweatshirt adorned with their favorite brand? The Audi Sport Hooded sweatshirt will be the perfect fit.
7. Audi Quick Detailer 16oz: Don't let their Audi grow dull from the rainy weather! The Audi Quick Detail gives that new Audi shine in a matter of minutes.
8. Round Carbon Fiber Keychain: This simple yet elegant keychain will add a little something to their Audi key.
9. Classic Cap: Walking instead of driving? The Classic Cap is a way to sport the iconic Audi rings when they are not behind the wheel.

Follow Your Heart

Don't just follow your heart to our online boutique, but follow it to Audi Fremont to find your new Audi. For a limited time, we are offering Complimentary Audi Care Pre-Paid Maintenance on select Audi model leases!
*Complimentary Audi Care Pre-Paid Maintenance with the lease of select Audi Models. Please see dealer for more details. Exclusions apply. Covered scheduled maintenance must be completed by an authorized U.S. Audi dealer. Only valid for vehicles sold or leased in the U.S. May not be transferred to another vehicle. Coverage stays with the vehicle for the life of the contract.